Proud business partner of
Planting Hope
Picture this: a world where every stitch you crochet contributes to your creativity and the Earth's vitality. 
At Furls Crochet, we're turning this vision into reality as a Business Partner with One Tree Planted.
A Seed of Inspiration Planted
It all started on a sunny Earth Day in 2022. 
As a team of crafters and eco-enthusiasts, we wanted to make our mark in the most meaningful way possible. 
And the idea sprouted: We decided to plant one tree for every wood crochet hook sold on Earth Day. 2022. 
That first event allowed us to plant 116 trees through One Tree Planted in a highly-needed area.
Continuing our Growth
Earth Day 2023
After seeing the impact we could make through this commitment, we made a much larger pledge on Earth Day 2023. 
Furls would now plant a tree for every wood product sold until Earth Day 2024. This time, donations are not limited to wood crochet hooks but apply to each wood product we sell.
It was a promise that connected our passion for crafting with our deep-rooted love for the planet.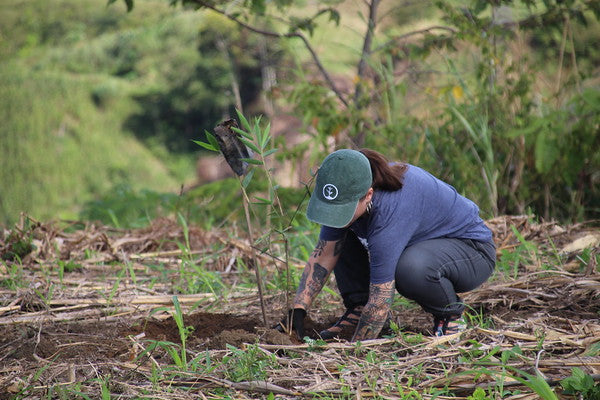 Why One Tree Planted?
One Tree Planted is a 501(c)(3) nonprofit dedicated to global reforestation that earned the 2023 Platinum Seal of Transparency. 
One Tree Planted plants trees as a way to restore nature and biodiversity. They also raise awareness about the importance of trees, offer businesses like ours a simple sustainability solution, and encourage younger generations to create positive change for our environment.
From Hook to Reforestation
How does a crochet hook lead to a towering tree? It's pretty simple! 
When you purchase a Furls Crochet wood product, a portion of the proceeds goes directly to One Tree Planted. This essential organization works tirelessly to reforest areas in need across the globe.
Your contribution, combined with the efforts of others, turns barren lands into lush landscapes, one sapling at a time.
Frequently Asked Questions About Our Donations
A: One Tree Planted provides continued updates on the projects your purchases support. Rest assured, your tree is a vital part of reforestation efforts.
A: While we can't pinpoint a specific location for each tree, Furls and the experts at One Tree Planted work together to ensure your contribution goes where it is needed most.
A: Absolutely!
Share our mission, inspire others to join, and stay updated on our cause.
You can find the most recent information here on this page, in our weekly newsletter, or on our social media channels.
You can also donate directly to One Tree Planted.
Transparency in Action
- Our Monthly Donations Certificates -
8,440 TREES PLANTED... AND COUNTING!
Growing Together
Your Purchase, Your Impact
With each Furls Crochet wood product you choose, you're not just adding to your collection, you're contributing to a greener world, a legacy of giving back, and a forest of hope.
So, let's stitch together a story of growth, renewal, and love for our planet. 
Your purchase is part of our commitment to a better tomorrow.